This application developed for Smartphones and Tablets is a new educational resource from the Thyssen-Bornemisza Museum's Education Department. It was designed to provide a way to get to know and learn about the museum and its collections by mixing elements of reality, fiction and adventure.
It can be an individual or shared experience, and offers a different, fun and educational way to visit the museum.
Crononautas: a journey through time in the Thyssen Museum encourages recreational participation as a way to get to know the structure and the works of the collections in the Thyssen-Bornemisza Museum. The app includes decision-making tasks as well as other challenges, so that the user becomes the hero of the adventure.
The card system offers personalised options to help select the type of museum adventure you want, set within a science fictional context. This adventure on your journey through time combines literary, historical and geographical elements.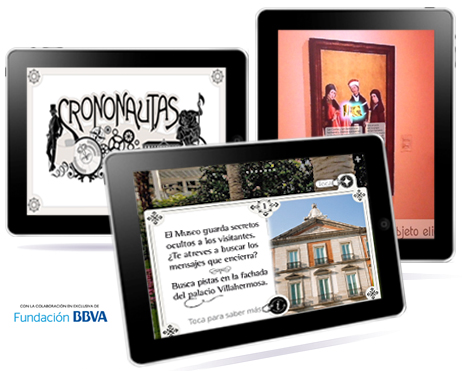 The result of each choice you make gives you access to an augmented reality, deepening your understanding of the works of art and their artistic context and drawing you further into the adventure.
This app is both a complementary tool and a guide for your tour, either virtual or real, of the museum and its works of art.
The recreational element of the app gives you the option to deepen your knowledge from the information on the back of the cards as well as from other material that is available of the Educathyssen website.
The creation of this app was made possible thanks to the agreement signed in January 2013 by the Fundación BBVA y the Thyssen-Bornemisza Collection Foundation to develop a Programme of applications, digital publications and educative content of the Thyssen-Bornemisza Museum.