This new educational resource provided by the Thyssen-Bornemisza Museum's Education Department is an app that has been developed especially for tablets. It is ideal for learning about the museum's treasures before, during and after your visit in a fun and innovative way.
Experiment Now! encourages the playful participation of users allowing them to get to know some of the Thyssen-Bornemisza Museum's more important works as well as those from its temporary exhibitions in more detail. The app inspires users to experiment with a number artistic concepts as part of the game, and month by month new possibilities for creativity and self-discovery will be added, offering a fantastic ways to learn about the visual arts.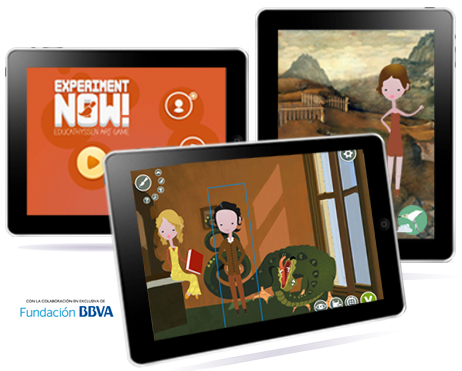 The 'free play' option lets participants explore their creativity by incorporating different canvases, characters and elements into the various works in the Thyssen Museum. In addition to this, there are drawing, photography, text and sound options, offering a much more complete experience, open to many different interpretations.
When 'challenges' are accepted you get the chance to win different badges on their successful completion. The theme of the game changes once a month or when our exhibitions change, and there are different levels for different ages. In addition, the 'challenges' are dotted with surprises – for example, there are some medals to be won that come with prizes and will provide new content.
The recreational element of this app ensures that the user acquires additional knowledge of the museum's collections, as well as offering teachers and educators the chance to create their own personalised tours for school groups.
The creation of this app was made possible thanks to the agreement signed in January 2013 by the Fundación BBVA y the Thyssen-Bornemisza Collection Foundation to develop a Programme of applications, digital publications and educative content of the Thyssen-Bornemisza Museum.