A digital publication that reunites which offers four of the displays shown under the title <Exchanging Gazes> series: Mondrian, De Stijl and Dutch artistic tradition, Faces and Hands: Ancient and Modern Germanic Painting, Freud/Watteau and Interior Scenes. Women and Daily Life.
The object of these installations is to promote the idea of the museum as a space not only of enjoyment, but also of knowledge. We hope to provoke the onlooker into a longer, more thoughtful gaze and, by creating new dialogues between particular works in our collections, elicit new interpretations.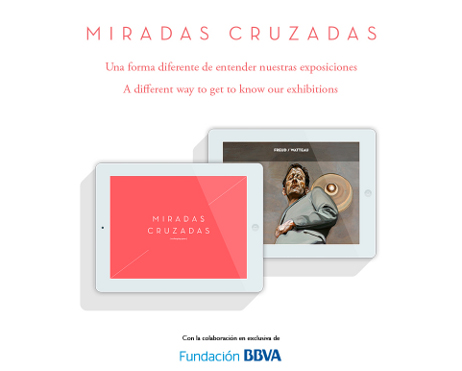 Included in this digital publication are virtual tours, high-resolution images and the content of the brochures which accompany the displays, as well as biographies of the artists and specific information on each work.
In September 2014 the second part of the digital publication <Exchanging Gazes> will be launched. This will reunite three more displays: Orientalisms in the Thyssen-Bornemisza Collections; Reflections: from Van Eyck to Magritte; and The Rhythm of the Earth: 17th century Dutch and 19th century American Landscape Painting.
<Exchanging Gazes> from the Thyssen-Bornemisza Museum provides an unsurpassed opportunity to find out about the most remarkable and unique works of art from one of Europe's leading museums. This project has been made possible thanks to the agreement signed in January 2013 between the Museum and the Fundacion BBVA.