This iPad application highlights a selection of some of the most exceptional works the museum has to offer: 143 masterpieces by 131 artists, spanning over seven centuries.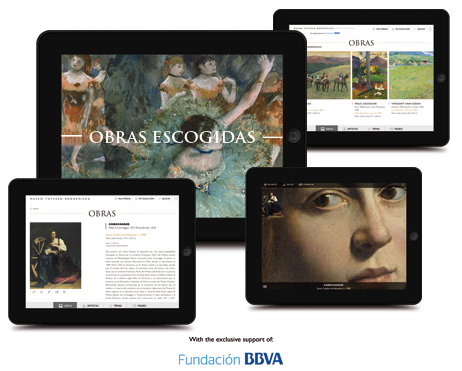 Obras escogidas (Selected works) takes you on an incredible journey through the history of art. It starts in the early Renaissance and finishes at the height of Modernism in the 20th century with key movements such as Impressionism, Cubism, Surrealism and Pop Art. Along the way you will come across essential artists such as Rembrandt, Rubens, Holbein, Caravaggio, Degas, Monet, Picasso, Kandinsky, Rothko and Hopper, amongst others. Learn more about these artists and their works by reading our expert texts and looking at our high quality zoomable images. The eight gigapixel photographs let you zoom in and see these works in stunning detail - almost on a microscopic level. In a video featuring the museum's director you can also find out about how the collection was formed.
The app includes other videos in which the museum's renowned curators reveal their favourite paintings. Another fascinating way to view the collection is provided by the Themes section, where a curated selection of works is grouped under a certain topic. Excited about an artwork you have seen? It can be sent it via e-mail, you can post it on Facebook, or you can share it on Twitter. You will also find practical information about visiting the museum, including a calendar of its exhibitions and upcoming activities.
Selected works from the Thyssen-Bornemisza Museum provides an unsurpassed opportunity to find out about the most remarkable and unique works of art from one of Europe's leading museums. This project has been made possible thanks to the agreement signed in January 2013 between the Museum and the Fundacion BBVA.