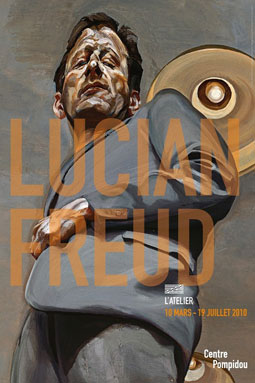 Fig. 1
Lucian Freud, L'Atelier
Centre Pompidou
10 March to 19 July 2010
A giant-size blow-up of Reflection with two Children, mounted on the façade of the Centre Pompidou in Paris, welcomes visitors to the exhibition Lucian Freud. L'Atelier, curated by Cécile Debray (fig. 1). The incisive gaze of this great painter, made even more penetrating by the exaggerated use of a low angle in the composition, seems to alert us to the fact that in order to enter into his personal universe we must mentally prepare ourselves to survive his ability to disturb the viewer.
This self-portrait, which is also currently to be seen adorning half the walls of the city of Paris, is one of the works that the Thyssen-Bornemisza Museum has lent to the exhibition. It offers a unique opportunity to reconsider the art of Lucian Freud and to discover in the works from the Museum's collection (temporarily absent from its galleries) a network of interpretations that arouse previously unknown emotions.
Freud's disturbing realism offers no respite, and once inside the exhibition the visitor is immediately enveloped in an atmosphere as sickening as it is fascinating. In the first section, Interior/Exterior, the viewer enters into Freud's private universe, his realm of freedom, reflection and transgression. We see various canvases from different periods and of different sizes in which his atelier emerges as an intimate, private place in the manner of a secret laboratory or a metaphor for painting. Outside, gardens, back courtyards, empty streets and views of roofs with chimneys co-exist with rubbish dumps. Inside, the chipped and faded walls are plastered with thick gobbets of paint wiped off the brush, while on the steeply sloping wooden floors we see a tangle of dirty rags and rickety furniture that defy the force of gravity. There is generally a plant or two which, rather than making the room feel more human, create a sense of menace, for example, the fleshy potted plant of twisted branches next to which the artist's daughter Ib lies, half-naked, in Large Interior, Paddington of 1968-1969 (fig. 2). Freud's models always seem unaware of any presence and submit themselves in a natural manner to the painter's acute analysis. In contrast, the viewer can start to feel extremely uncomfortable when looking at these troubling images to the point of being overtaken by a sense of suddenly finding ourselves in forbidden territory.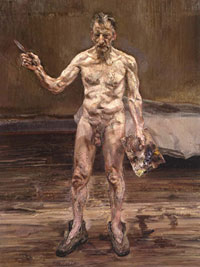 Fig. 3
Lucian Freud
The Painter working. Reflection, 1993
Private collection
Freud immediately puts us to a second test. In the section of the exhibition entitled Reflections the naked painter in front of a mirror, wearing only boots and holding his painting tools, challenges us to meet his gaze (fig. 3). The force and complexity of Freud's self-portraits, which perfectly combine veracity and irony, are largely due to his capacity to make us feel fragile and vulnerable. While in his portraits the artist generally uses a high viewpoint, perhaps in order to emphasise his mastery over his model, in his self-portraits there is always a slight effect of di sotto in sù, increasing the sensation of oppression that the viewer experiences and making us feel more naked in their presence than we would ideally like.
Further into the exhibition, the sections Rediscoveries or Re-readings focuses on Freud's devotion to the great masters of the past such as Constable, Cézanne, Picasso, Chardin and Watteau, a devotion that he masterfully combines with a marked desire for independence. One of the most radical of these rediscoveries of the Old Masters is undoubtedly the Portrait of Baron Thyssen-Bornemisza (fig. 4), which occupies a prominent place in this section.
From 26 July 1981 and for almost the next two years, Baron Heinrich Thyssen patiently attended sittings for his portrait at the artist's studio near Notting Hill Gate. It was the first time that the Baron had posed as a model and it marked the start of an unforgettable experience. In his words, the painter and model established a "long and fruitful relationship" that led to discussions on painting and to comparisons of their respective tastes in art.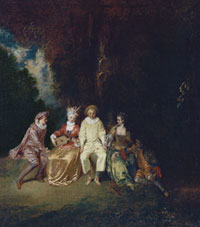 Fig. 5
Jean Antoine Watteau
Pierrot Content, ca.1712
Museo Thyssen-Bornemisza, Madrid
In this small, frontal portrait, Freud looks back to his portraits of heads that he had largely executed in the 1960s. The Baron is informally dressed in a tweed sports jacket, white shirt and dark tie. Behind his right shoulder and functioning as the background to the image, is a lightly painted fragment of Jean Antoine Watteau's Pierrot Content, a work that had been in the Thyssen collection since 1977 (fig. 5). The Baron is located in front of the position occupied by Pierrot in the painting and even seems to have adopted his pose and expression. The slight forward tilt of the head and the downward gaze convey the idea of a prominent business tycoon absorbed in his own thoughts.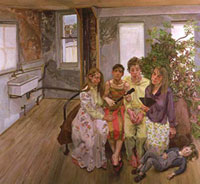 Fig. 6
Lucian Freud
Large Interior W11 (after Watteau), 1981-1983
Private collection
Still influenced by Watteau's painting, of which he had a reproduction stuck to his studio wall, Freud painted his monumental Large Interior W11 (after Watteau) (fig. 6), which is sadly not included in the present exhibition. It is a group portrait of various family members and friends. In the centre, playing the role of Pierrot, is Freud's son Kai, dressed in lemon yellow, while his daughter Bella assumes the role of Columbine. On either side of them are Celia Paul, on the left next to Bella, and Susy Boyt, Kai's mother, on the right. Both women had posed for Freud on previous occasions. The young girl lying on the floor between them creates a distorting element in the composition and recalls the young, semi-naked Ib in Large Interior of the previous decade.
Through his unique approach to composition and his ability to enter into the interior world of a number of his close friends and relatives, Freud transforms a theatrical subject on human sentiments characteristic of the commedia dell'arte into an interpretation of his own private life, re-writing Watteau's fantasy as an emphatically modern subject.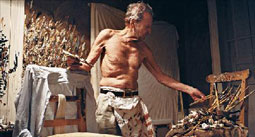 Fig. 7
David Dawson
Lucian Freud in his Studio
Our survey ends with a group of nude portraits, displayed in the exhibition under the heading As Flesh, referring to the artist's comment made to Lawrence Gowing in 1982: "I want paint to work as flesh". This section of the exhibition hails Freud as the artist who has best succeeded in revealing the vulnerability of the human body. Proof of this idea is the photograph of the painter taken by his assistant David Dawson in which he appears with a paint-soiled rag tucked into his belt like a butcher's apron, while he holds his brushes like knives, as if on the point of cutting up a piece of meat (fig. 7). Particularly striking in this section are the colossal images of Leigh Bowery, as heroic as a Michelangelo and a fleshy as a Rubens, and the life-size nudes of Sue Tilley, Big Sue, the benefits supervisor whose morbid obesity becomes a great mound of humanity through Freud's thick impasto.
Lucian Freud's paintings may fascinate or irritate, provoking immediate empathy or complete rejection, but no one who has seen them can fail to experience a profound and long-lasting sense of bewilderment. The disjunction between the subtlety of his painting and the sickening personal universe on which he focuses, combined with his grim vision of our bodily presence, projects a layer of angst onto all the sitters that he has depicted. With his ability to paint the texture of skin and the inevitably decaying reality of flesh, Freud seems to focus on reminding us that ultimately we are no more than mere mortals made from human clay.