The homage paid to the Infant Christ and the Virgin by angels, the Magi, shepherds and donors is the theme of this edition in the <Exchanging Gazes> exhibition series, on occassion of the Christmas holidays.

It brings together thirteen works by artists including Luca di Tommè, Jacques Daret, Fra Bartolommeo and Marc Chagall, who depicted both the events described in the Gospels and private devotional images of the Virgin and Child. Only the Gospels of Matthew and Luke describe episodes such as the Birth of Christ and the Adoration of the Shepherds and the Magi, for which reason artists had to turn to other more complete accounts when devising their works, such as the Apocryphal Gospels, the Revelations of Saint Bridget of Sweden, Jacobo de Voragine's Golden Legend and the texts of religious plays.

The works selected for the present exhibition, all of them from the Thyssen Collections, are notable for the presence of angels, which play a different role in each of the episodes depicted, while the influence of the above-mentioned texts is also evident in details such as the Virgin's position, the clothing, and the manner of presenting the midwives, among other elements.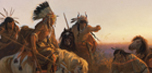 For the first time in Spain, the exhibition The Illusion of the American Frontier will follow the footsteps of the 19th-century artists who first explored the American West in order to depict its landscapes and the life of its indigenous peoples. These artists gave visual form to the myth of a wild, dangerous but still virgin territory of astonishing natural grandeur. Opening with a section on the Spanish explorers who established the first contacts with the land and tribes to the west of the Mississippi, the exhibition will follow the fascinating artistic adventures of Karl Bodmer, George Catlin and Edward Curtis, who documented, customs, rituals and appearances with a mixture of precision and ethnographic licence and of landscape painters such as Albert Bierstadt and Thomas Hill who approached their depictions of the "promised land" with dramatic intent. The exhibition's curator, artist Miguel Ángel Blanco, will present a group of Book-boxes from his Library of the Forest, made with materials from the American West.