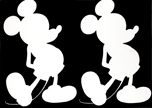 Andy Warhol
Double Mickey Mouse ,
1981. Screenprint with diamond dust.
The Metropolitan Museum of Art, The Andy Warhol Foundation for the Visual Arts Gift
Petit Pop: concert for families
Saturday 14 June. TICKETS SOLD OUT.
Andy Warhol
Double Mickey Mouse ,
1981. Screenprint with diamond dust.
The Metropolitan Museum of Art, The Andy Warhol Foundation for the Visual Arts Gift

Within the programme of activities organised in conjunction with the exhibition Pop Art Myths there will be a concert by the Petit Pop group aimed at children and older people. With the idea of introducing pop music to young children, this Asturian group has a comprehensive repertoire of catchy songs that encourage interaction with the audience and ensure participative and highly enjoyable concerts. This activity takes place on Saturday 14 June at 19.00h in the Museum's Auditorium. Free entry. Tickets must be collected beforehand at the Museum's Information Desk from Thursday 12 June. Maximum three tickets per person.