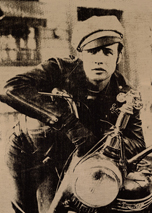 Andy Warhol Marlon (detail), 1966. Silkscreen ink on linen. 104.1 x 116.8 cm Sammlung Froehlich, Stuttgart
Film Cycle: Pop
On Saturdays, from 21 June to 13 September 2014
Andy Warhol Marlon (detail), 1966.
Silkscreen ink on linen. 104.1 x 116.8 cm Sammlung Froehlich, Stuttgart

On Saturdays at 19.30h the Museum will be presenting a film cycle based on the Pop Art Myths exhibition. It will include titles whose date, subject matter or aesthetic relate them to Pop Art, including:
- Forbidden Planet (1956) by Fred. M. Wilcox;
- Blow Up (1966) by Michelangelo Antonioni;
- The Wild One (1953) by László Benedek;
- Contempt (1963) by Jean-Luc Godard;
- Niagara (1953) by Henry Hathaway;
- Barbarella (1957) by Roger Vadim.

The programme is completed with a selection of documentaries including:
- Roy Lichtenstein. New York doesn't exist (1996) by André S. Labarthe;
-experimental films such as Andy Warhol's Eat (1963);
-various examples of Spanish Pop filmmaking such as Un, dos, tres… al escondite ingles by Iván Zulueta.

Films will be shown in the original language with subtitles, in the Auditorium.

Free entry. Tickets must be collected from the Information Desk beforehand (maximum two per person), from an hour and a half prior to the start of each film.