Volunteer´s program
The notion of a volunteer, who selflessly helps to spread information about collections in museums, was something almost unheard of in this country when it was introduced in the Museo Thyssen-Bornemisza. Aware of the importance of actively promoting its resources, the Thyssen-Bornemisza Collection Foundation, in a pioneering move under the patronage of Her Royal Highness Princess Pilar de Borbón, started a course to train a team of volunteers just 15 days after the Museum opened its doors.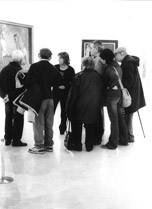 volunteer made a tour for seniors
From 1994 it has been developing a range of socially aware activities, with the aim of attracting groups to the Museum who need additional support to share in the enjoyment of the cultural works on offer. The programme for people with special needs, organised from the beginning in collaboration with IMSERSO (with whom an agreement was signed in 1993), has been possible thanks to the magnificent work of the Foundation's Voluntary Group.
Volunteers of the program for visits for those over 65 and visitors with special needs
Almudena Delgado Linacero
Carmen López Ibínaga
Carmen Montojo de Cózar
Carmen Suárez Carrasco
Dolores González Casas
Gisela Dorow Heller
Mª Isabel Sánchez García
Mª Luisa Vigil de Quiñónez
Mª Victoria Azcona García
Mª Victoria Fernández Lapeña
Margarita Santos Rincón
María Bermúdez-Coronel García de Vinuesa
María Bonetti de Cossarini
Natalia Centenera Baños
Pilar García Corona
Sabine Kieselack Ullrich
Teresa García García
Teresa Nuñez Area
Jaime Diego Abascal López
Amalia Maureta Checa
Ana Sánchez Ferri
Begoña Domínguez Iniesta
Carmen de Lojo Carrera
Dolores de Lara Escobar
Isabel Ramos Gutiérrez
María Jesús Collantes Estrada
Rosa María Ros Cuadrado