History of the Collection I
The Museo Nacional Thyssen-Bornemisza houses one of the finest and most varied collections of Western painting. Van Eyck, Dürer, Titian, Caravaggio, Rubens, Rembrandt, Canaletto, Monet, Degas, Morisot, Cézanne, Van Gogh, Picasso, Kirchner, Kandinsky, Goncharova, O'Keeffe, Hopper, Dalí, and Pollock are just some of the names on the long list of great masters represented in its holdings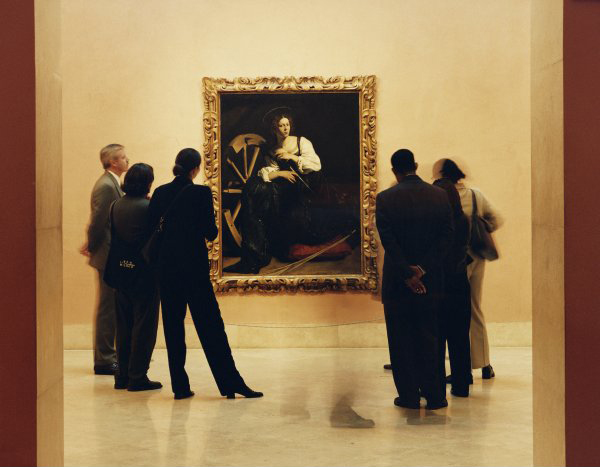 Acquired by the Spanish state in 1993, the privately assembled Thyssen-Bornemisza Collection was designed from the outset to be as broad-ranging as that of a museum. Its encyclopaedic holdings provide an overview of Western painting and span most European and American styles from the fourteenth to the twentieth century. Even though the paintings were purchased over the course of only two generations and number no more than a thousand, a large proportion of them are masterpieces.
Beginnings: August Thyssen (1842-1926)
The true architects of the collection were Baron Heinrich Thyssen-Bornemisza and his son Hans Heinrich.
However, when surveying how the collection came about it is difficult not to recall August Thyssen, who founded the family-run business empire based on the iron and steel industry in 1871.
‌
It was he who established the family tradition of collecting when he commissioned seven sculptural groups from Auguste Rodin between 1905 and 1911. His memory lives on in the museum's entrance hall in four of these marble pieces (now part of the Carmen Thyssen Collection), which greet today's visitors.
‌

Heinrich Thyssen (1875−1947): a methodical collector
August Thyssen's third son, Heinrich, earned a doctorate in chemistry from Heidelberg university and married Hungarian Baron Gabor Bornemisza de Kászon's daughter, Margit, in 1906. His marriage afforded him noble status and he adopted the surname Thyssen-Bornemisza. The couple lived in a castle in Rohoncz (now Rechnitz, Austria) for years until the outbreak of the Hungarian revolution in 1919 forced them to seek exile in the Netherlands, where Heinrich's main businesses were based.
‌
As for his debut in collecting, Heinrich made his first major acquisitions in the late 1920s, after his father died. His intention was to assemble a wide-ranging collection similar to those of the great German museums, especially that of Munich's Alte Pinakothek, which he took as a model.
Indeed, it was precisely in the Bavarian capital – at the Neue Pinakothek – where he first showed his holdings, which he named the Rohoncz Castle Collection, in July 1930. However, negative reviews – owing to the dubious attributions of a few works, which were later sold – led the baron to abandon his initial idea of placing the collection on long-term loan in Düsseldorf.
Instead, following the example of his friend Eduard von der Heydt, he purchased the palace of Villa Favorita (Lugano) in 1932 and had an art gallery built there to house his paintings.
‌
While work on the gallery progressed, Heinrich, assisted throughout by his advisor Rudolf J. Heinemann, actively set about sourcing masterpieces on the international art market. As a result, from 1933 to 1935 a number of prominent works joined the collection, such as The Annunciation by Van Eyck, Young Knight in a Landscape by Carpaccio, Family Group in a Landscape by Frans Hals, Saint Catherine of Alexandria by Caravaggio, Jesus among the Doctors by Dürer, Portrait of Henry VIII of England by Hans Holbein, and Portrait of Giovanna Tornabuoni by Ghirlandaio. The picture gallery at Villa Favorita opened in September 1936, and during the baron's lifetime entry was reserved for his guests. ‌
‌
History of the Collection II
Hans Heinrich (1921−2002): a passion for art
GO