Fundacion Mutua Madrileña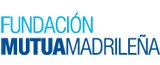 The Fundación Mutua Madrileña is a private non-profit foundation that was set up in 2003 by the insurance company Mutua Madrileña.
 The key aims of the foundation are to support medical research in Spain, social projects, cultural projects and to promote road safety amongst young people. The work of the foundation in these four areas is carried out in a sustainable way, always looking to achieve the maximum impact and social benefit. 
More specifically to promote arts and culture among its insured members, the foundation offers an extensive programme. It organises its own activities for both adults and children, but also works together with museums and cultural institutions.