The Museo Thyssen-Bornemisza is participating, along with 150 other international museums in an ambitious Google project entitled Art Project. The Museo Thyssen-Bornemisza's involvement aims to generate content that can be located from other sites and which thus have the potential to reach more users, offering shared experiences and viewpoints. Some time ago Museum's digital content moved beyond the limits of museothyssen.org and it is now present on other platforms such as Facebook, Twitter, Youtube, Vimeo and Flickr.
Working with Google, since the beginning of the project (February 2011), has offered the Museum an alliance with a partner that possesses the most cutting-edge technological resources. The Museum will contribute high-quality digital content, while Google has the capacity to disseminate it around the world. In addition, the project constitutes a meeting place for museums and for the exchange of knowledge, while also offering a unique experience to art lovers, with each museum presenting a selection of works from its collections. The Museo Thyssen-Bornemisza will be participating with 27 of its masterpieces, of which 22 are from the Permanent Collection and 5 from the Carmen Thyssen-Bornemisza Collection: El Greco, Bronzino, Durero, Van Eyck, Ghirlandaio, Rubens, Canaletto, Renoir, Van Gogh, Cézanne, Kirchner, Corot, Gauguin, Monet...
The technology with which this project is equipped makes it possible to zoom in onto the images of some of the works in the collections. The result can be found at www.googleartproject.com.
The Museum Thyssen-Bornemisza contribution to the project consists in:
A Gigapixel image: Young Knight in a Landscape by Vittore Carpaccio is the principal work chosen by the Museum for this project. The Gigapixel image contains approximately 14 million pixels and allows the user to study aspects in close-up such as the technique, pictorial surface, and other, previously invisible details.
Information of the other 26 paintings selected with a link to the detailed description of the work at the Museum's website.
Virtual visits to the galleries with Street View technology, which has been improved regarding images and navigation.
Updated content at the Museum's channel in Youtube.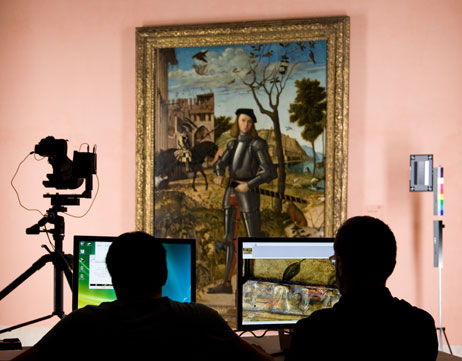 The new version of Art Project (April 2012) includes 30,000 works of art from museums world-wide. The variety and size of the content make the tools for exploring, sharing on social networks, rating and creating collections extremely useful. The potential of the hangouts (video conferences for up to 10 people) and the resources offered in the new Education section move this project forward another step and indicate its potential for further growth.