Together with other worldwide museums and cultural institutions the Thyssen-Bornemisza Museum is participating in the Google Cultural Institute project entitled Google Arts & Culture. The museum's involvement in this project aims to generate content that can be accessed from other websites. The content will reach many more users and will offer visitors the chance to share experiences and viewpoints.
Some time ago the museum's digital content moved beyond being housed exclusively on its website www.museothyssen.org and became available on other platforms such as Facebook, Twitter, YouTube, Vimeo and Flickr.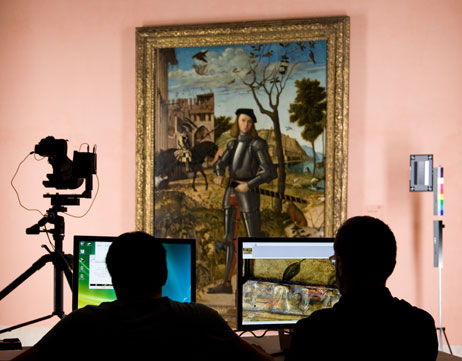 Having worked with Google since the beginning of the project (February 2011), the Thyssen-Bornemisza Museum has found a partner who possesses the most cutting-edge technological resources. As a team, the museum contributes the high-quality digital content, whilst Google has the capacity to disseminate it around the world. In addition, the project has become a meeting place for culture, a platform for the exchange of knowledge, whilst also offering a unique experience to art lovers.
The Thyssen-Bornemisza Museum contributes with a selection of masterpieces to the project, including works by El Greco, Bronzino, Durero, Van Eyck, Ghirlandaio, Rubens, Canaletto, Renoir, Van Gogh, Cézanne, Kirchner, Corot, Gauguin, and Monet…
The collaboration with Google has made it possible to to zoom in closely on the work Young Knight in a Landscape by Vittore Carpaccio. The gigapixel image allows the user to study aspects in close-up such as the technique, pictorial surface, and other, details invisible to the naked eye.